Pro Kabaddi Season 7 Auctions: 5 things we are excited to see in PKL 7.
The Auctions for Pro Kabaddi Season 7 are over, many players will be seen in different teams for the upcoming season. The different combinations will make a fascinating viewing for the fans. We look at 5 things we are most excited to witness in PKL 7.
Surender Nada's return – Will he be the same player before the injury and guide the Pirates?
Surender Nada played just 1 match of PKL 6 for Haryana Steelers before breaking his hand and subsequently missing the whole of PKL 6 season. In the midst of his Kuldeep's emergence as a promising left corner for Haryana Steelers and Nitesh Kumar's record-breaking season for U.P Yoddha. It was easy to forget that Surender Nada had enjoyed a record breaking PKL 5 Scoring 9 High 5s, the most by a player in a PKL season. The Pirates splashed 77 lakhs for the 32-year old and the experienced left corner will add leadership and quality in a Patna Pirates team which had badly lacked game management and experience which Nada has in abundance. The former U Mumba defender will also ease the leadership burden from Pardeep and help him concentrate on raiding.
Sandeep/Fazel pairing:
U Mumba already had one of the strongest defensive units in PKL 6 led by Fazel. They have arguably made a stronger defence  this season than in PKL 6 by adding Sandeep Narwal to the mix. The 26-year old was bought by U Mumba for a whopping fee of 89 lakhs to form one of the deadliest corner combination with Fazel Atrachali on the opposite corner. The blocks and dashes of the powerful 26-year old convinced U Mumba to make him the highest paid defender/ all-rounder of PKL 7 auctions. Add to the mix Surinder Singh and experienced Rajguru and U Mumba's defense are likely to give stern tests to the raiding units of PKL 7 especially if the corner combination of Fazel and Sandeep click.
Siddharth Desai:
Tall and lanky Siddharth Desai stepped up wonderfully to lead U Mumba's raiding department in PKL 6 scoring 218 raid points in 21 matches including 12 Super 10s and 10 Super Raids 2nd only to Pawan Sehrawat. The Pune native bamboozled defences with his back kicks and running kicks while his power while escaping was unrivaled in PKL leading him to be named as the best debutant of PKL 6. The 27-year old was the biggest factor in U Mumba making the play-offs. Telugu Titans made him the most expensive player of PKL 7 auctions by splashing 1 crore 45 lakhs to get him. It will be interesting to see whether he will be a one season wonder or establish himself as one of the stars of PKL.
Rahul/Ajay Combination: 
The one thing that Ajay Thakur has lacked over the past 2 seasons was quality support raider. Rahul Chaudhari has also lacked a support raider to revive him quickly hence Rahul has spent the most time outside the mat by any player in the last 2 seasons. On paper this is a match made in heaven both are match winning raiders and close friends who can support each other for the larger interests of the team, and it will also ensure both stay on the mat for as much as possible to inflict damage to the opposition.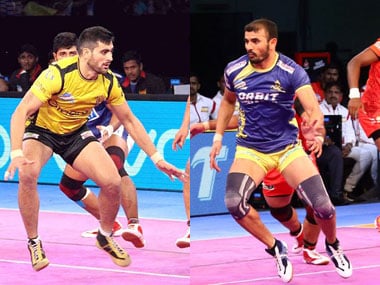 The Iranian Invasion: 
Iran defeated India for the first time in Asian Games history in 2018 and duly impressed coaches of Pro Kabaddi League. In the Pro Kabaddi Season 7 auctions, demand for the Iranian players were considerably higher; mainly due to many new names of Iranian players added in the auction pool. Mohammaed Esmaeil Nabibaksh was picked up by Bengal Warriors for 77.50 lakhs while Mohammad Esmail Maghsoudou was picked up by Patna Pirates for 40 lakhs. It is the first time in PKL that Iranians will be playing a crucial role in 6 out of the 12 teams. This is also the first time that 3 Iranians including the retained Fazel were sold in excess of 70 lakhs. How the Iranians perform after their increased status will be exciting to watch and will definitely make the league more exciting.