Pro Kabaddi Season 7 Auctions: Why Tamil Thalaivas will be the team to watch in PKL 7
The Pro Season 7 Auctions ended on the 10th April with all the teams rejigging their teams in preparation for PKL 7. While all the teams made some astute acquisitions the team who impressed the most with their sharpness in the auction were the Tamil Thalaivas. They have bought some fantastic players and built a team to watch out for. We list 4 Reasons why Tamil Thalaivas will be the team to watch out for in Pro Season 7.
Ajay Thakur/ Rahul Chaudhari Combo: 
The one thing that Ajay Thakur missed over the past 2 seasons was another quality support raider. Rahul Chaudhari has also lacked over the past 2 seasons was a raider to give him support or revive him quickly. On paper this is a match made in heaven. Both are match winning raiders and close friends who can support each other for the larger interests of the team. It will also ensure both stay on the mat for as much as possible to inflict damage to the opposition.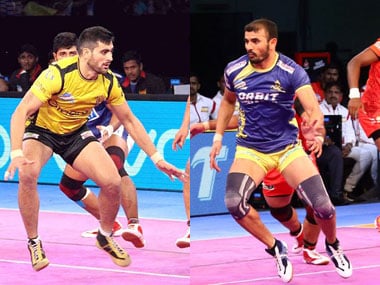 Strong Defence: 
Tamil Thalaivas had the worst defence last season. Thankfully for their fans they set about rectifying it by first retaining their best defender from PKL 6 Manjeet Chhillar and then adding in dependable left corner Ran Singh and National team's right corner Mohit Chhillar to shore up their defence. If Coach Bhaskaran can build co-ordination between them then Tamil Thalaivas have the personnel to floor any opposition raider.
Match Winners Aplenty: 
Tamil Thalaivas have Ajay Thakur and Rahul Chaudhari in their ranks. These are proven match winners and have combined to score more than a 1500 raid points in PKL so far. Manjeet Chhillar, Mohit Chhillar and Ran Singh are all experienced defenders who can make a difference in the crucial situations to turn the match for the Thalaivas.
Only Way is Up:
Last 2 campaigns Tamil Thalaivas struggled due to variety of reasons from inexperience to ineptitude and indiscipline. But in PKL 7 the team from Chennai appears to have all their bases covered. Another positive for them is that after two poor campaigns the only way is up for the Tamil Thalaivas.